Wintertime can be so magical and fun for kids. If you live in a cold climate, there's the freshly fallen snow, ice skating and sledding, and building snowmen. Well even if you don't live in a chilly tundra, like me, you can always bring that winter fun to life in your own classroom! Here are some Kindergarten winter activities that can transform your classroom into a winter wonderland.
1. Ice Skating Rink
This ice skating rink is a huge hit! You take clear plastic and tape it to your floor with duct tape. To add some extra wintery fun, I placed snowflake cutouts under the tarp. For the kids to be able to skate, I have a basket of thick, fuzzy socks to use as ice skates. My students just place the socks over their own socks so it's not too much removal of footwear. I added signage too, like "Ice Skating Rink" and "skate rental" for some cute visuals on the wall.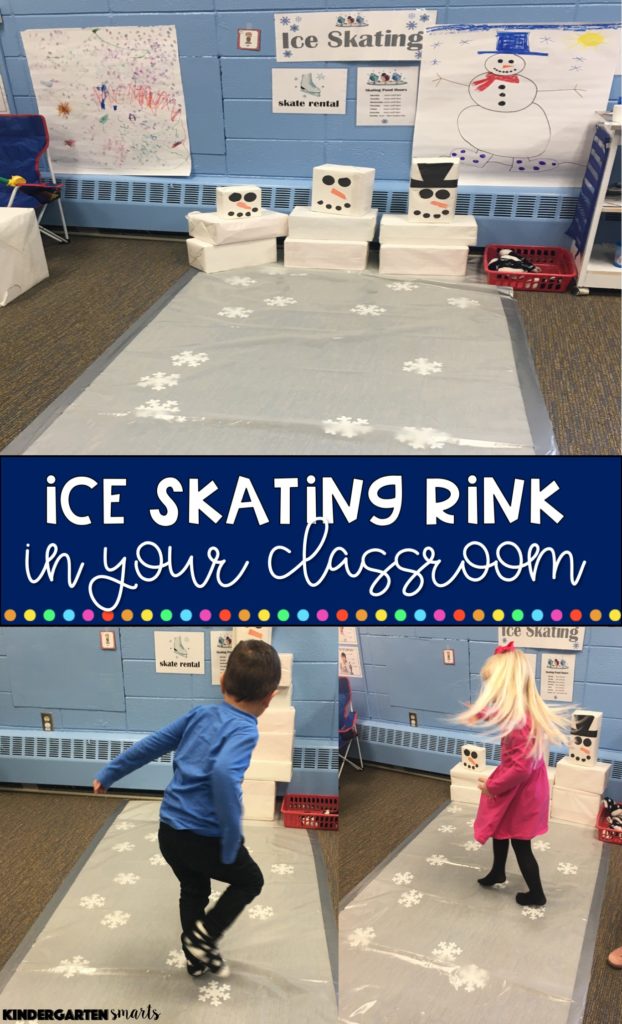 2. Ice Fishing
Regular fishing is fun, but what about ice fishing?! For this Kindergarten winter activity, I set up an ice fishing station with camping chairs, magnetized play fishing poles, and magnet fish. To replicate the actual act of ice fishing, I wrapped a box in white paper and cut a hole on top and inside I placed a utility bucket where all the fish go. This is also a great idea to find nonfiction books about ice fishing and place them near this station.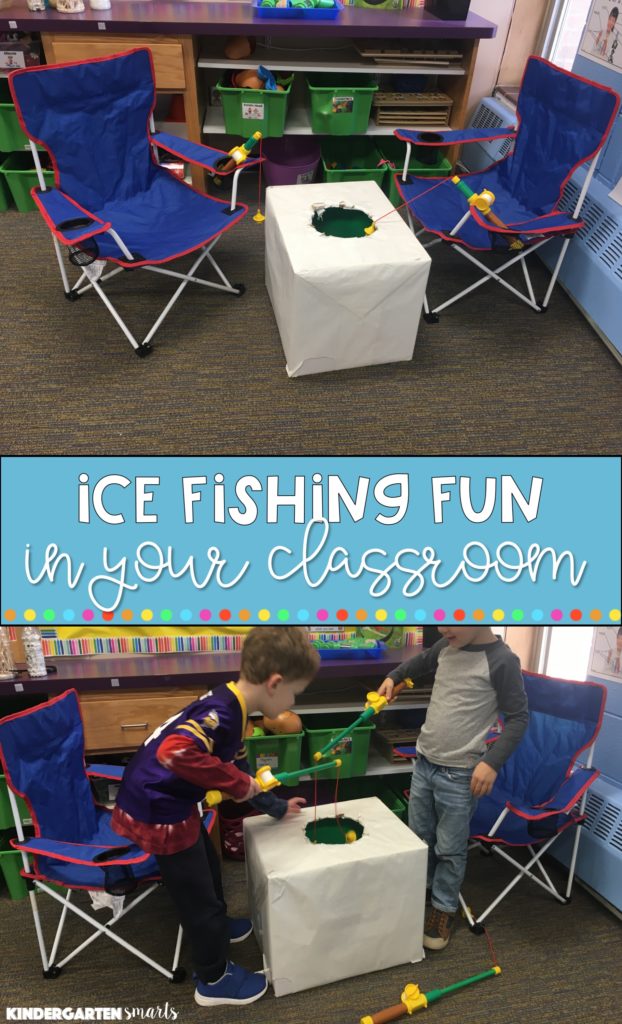 3. Build a Snowman
I took those big Melissa and Doug cardboard blocks set and wrapped them in white butcher paper like I would a present. I then created a few snowmen faces out of construction paper for their heads. Students had fun creating their own snowmen of all shapes and sizes!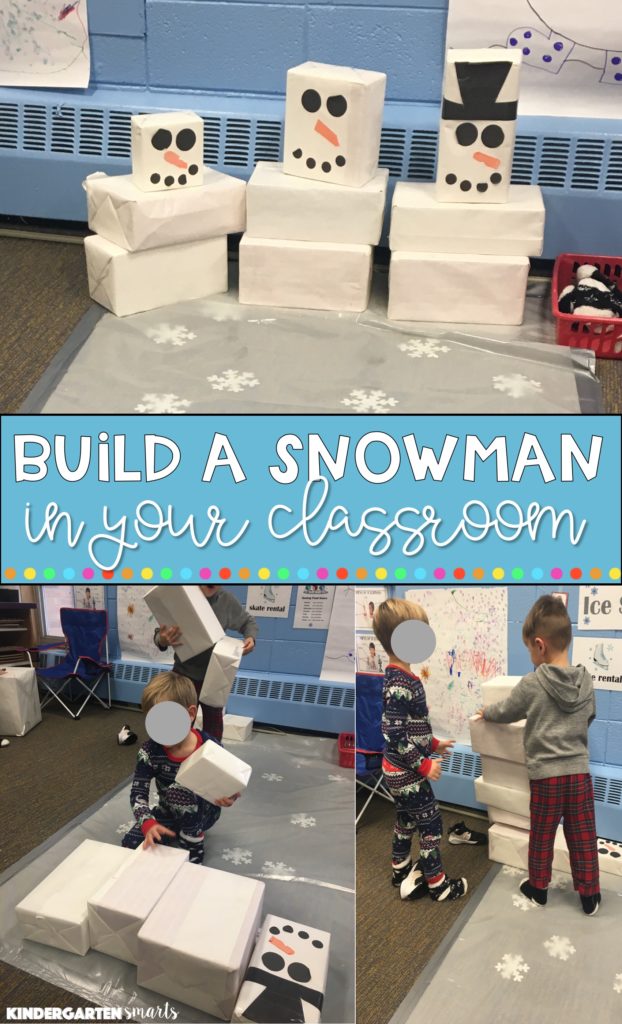 4. Hot Cocoa Stand
After the kids do all the chilly wintery activities, it's fun to have a hot cocoa station set up. First, I found a cute, wooden hot cocoa wooden set on Amazon that is sturdy enough for a classroom. Next, I created order forms that I set out on clipboards with dry-erase markers. Last, I placed a bucket of cups and saucers in a bin and included some wooden play cookies as well. You could even make it more interactive with a cash register and make it like a little hot cocoa stand.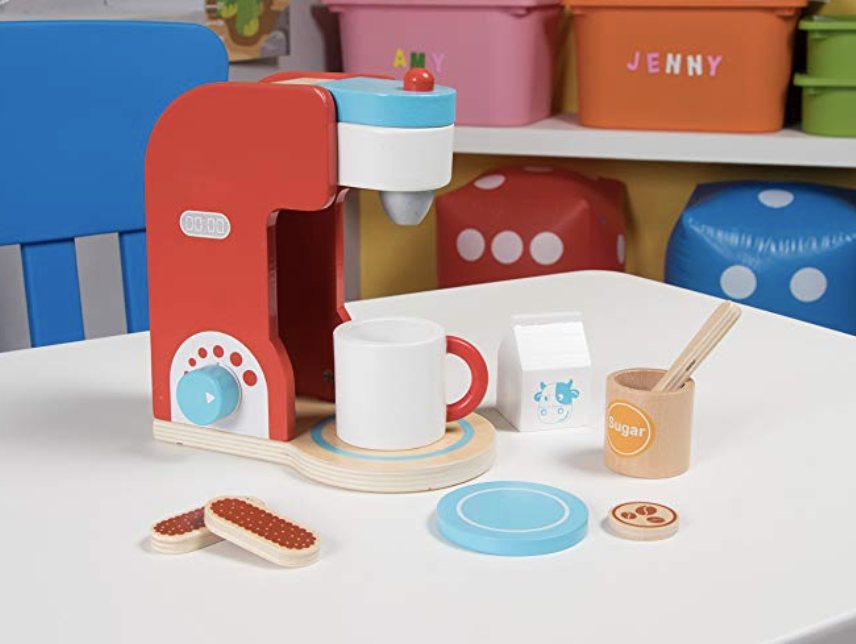 5. Warming House
An added feature is a warming house. All you need is a giant box and cut a doorway in the front. Inside you can place bean bag chairs or pillows and a pretend fire in the middle. This would be a fun place for the friends who bought their hot cocoa to sit and chat and warm up after ice skating.
6. Winter Blocks/STEM station
I love to challenge my students on creating things from random items into something! We have been learning about arctic animals and their habitats. It was fun to create a list of items we could create. Here is our list:
igloos
icebergs
bear den
snowy forest
dog sledding
icy, snowy ocean
log cabin
To recreate these scenes I pulled out our usual blocks, but added these extras:
arctic toy animals
white packaging foam (for snow)
blue felt (for the ocean)
twine (for the dog sled)
sticks and/or popsicle sticks (to create a dog sled or forest)
sparkly tree garland (for icicles)
white paper cups (to create igloos)
foil (for ice)
pine cones (for trees)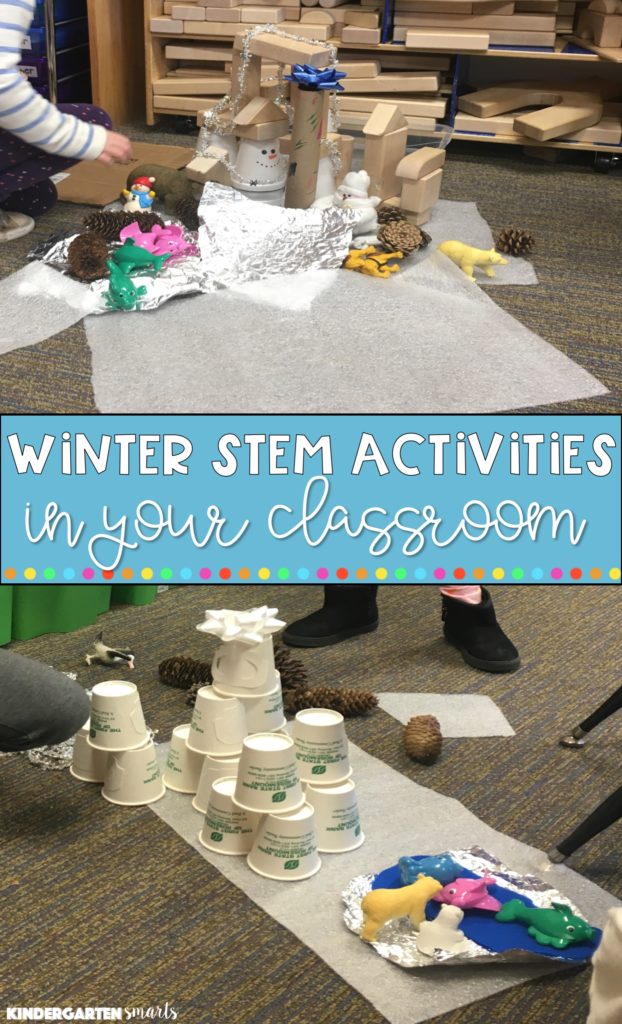 7. Snowy sensory bin
I love my sensory bin! I like to change it out about every 2 weeks. Here are some fun options for Kindergarten winter activities:
Cotton balls with scoops and cut up snowflakes
Blue water beads and play arctic animals. Create icebergs with upside-down Tupperware.
Create your own play snow (3 cups of baking soda mixed with a half a cup of conditioner. I would recommend a white conditioner so your snow stays that color) with scoops and little containers to make molds. Add arctic animals too if you like!
Bring in some real snow (if you have some) and provide mittens, scoops, arctic animals, containers, etc.
Paint with brushes or watercolor droppers real snow.
Place a bunch of winter items such as the arctic animals in a container of water. Freeze it. If you can get the ice block to pop out of the container, place that directly into your sensory bin. Provide chipping tools, water droppers, and gloves. Students will try to free the animals from the ice.
8. Winter learning centers
I love my winter math & literacy centers! There are so many great activities that tie into the rest of the classroom setup mentioned above. I do a lot of these activities first in a small group setting. They are great for morning tubs and during the Daily 5/free choice time too! Click here for my Winter Math & Literacy Centers.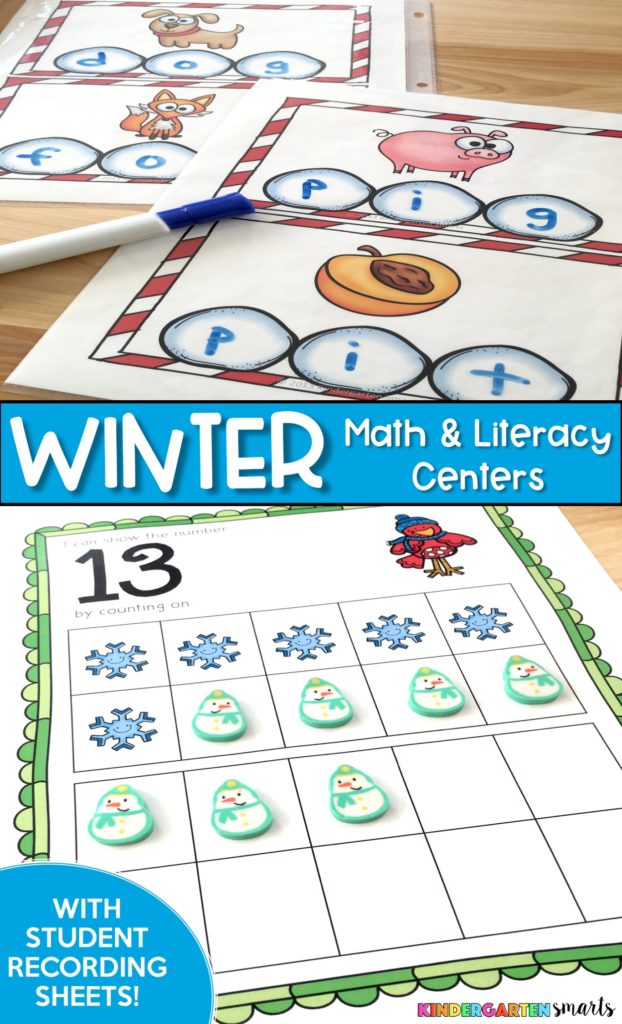 9. Winter books
There are so many great books out there for winter! Here are a few that I have in my library:
Snowmen at Night
I Know An Old Lady Who Swallowed Some Snow
The Mitten
The Snowy Day
Animals In Winter
Snowmen At Play
The Biggest Snowman Ever
3 Snow Bears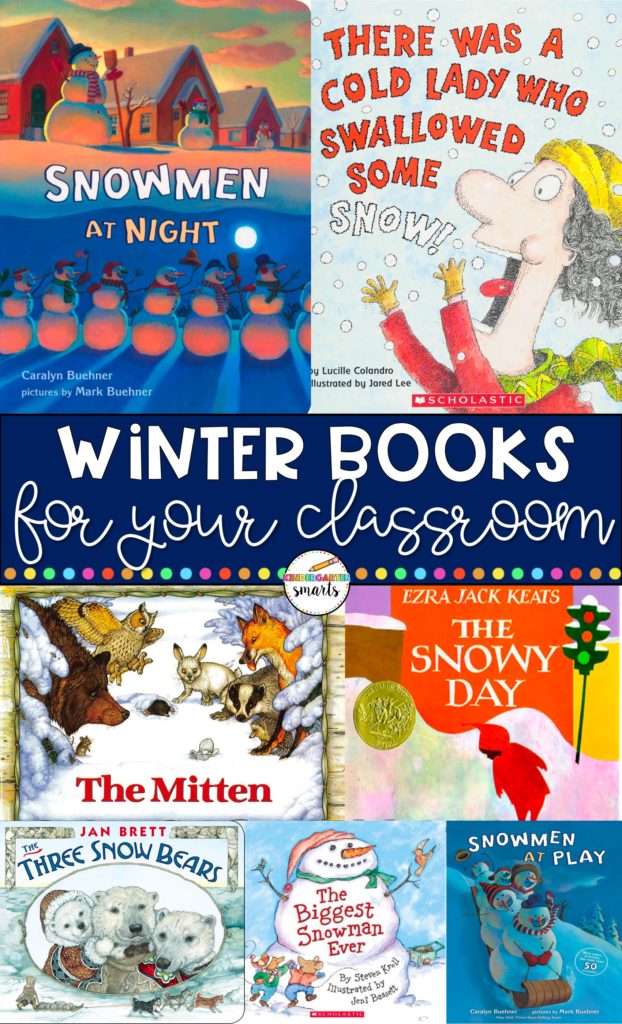 I also have student readers that I use during guided reading group time. They come differentiated at 3 different levels. They are so fun for the kids because they feel like they have mastered their own book, and they get to color it at the end. Click here for my Winter Sight Word Books.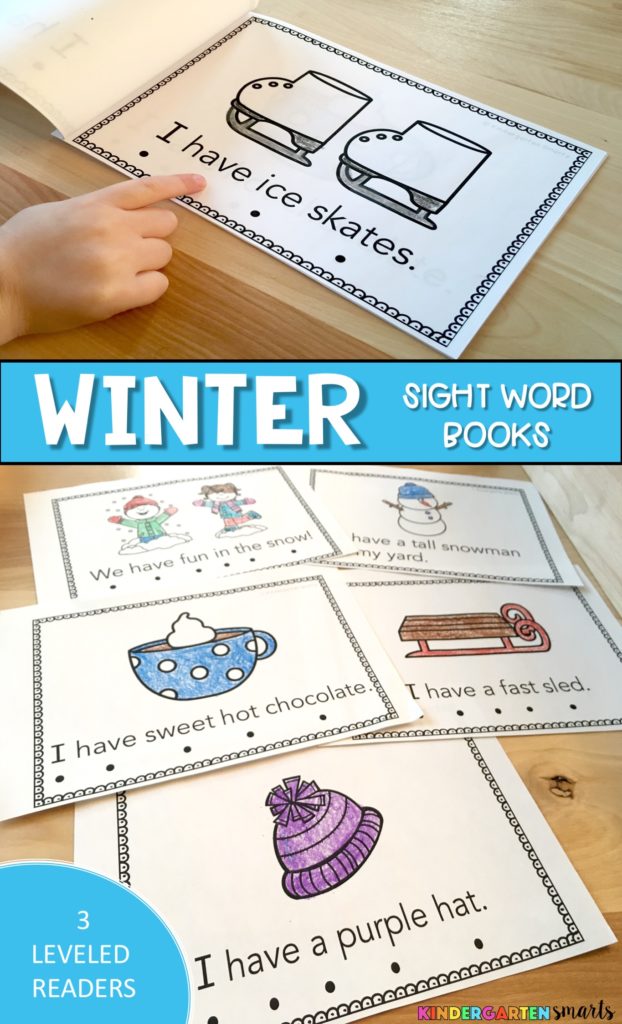 For more Kindergarten winter activities visit my Teachers Pay Teachers store!

Here is a winter-themed Digraph Sorting activity that you can grab for FREE! Click here to download!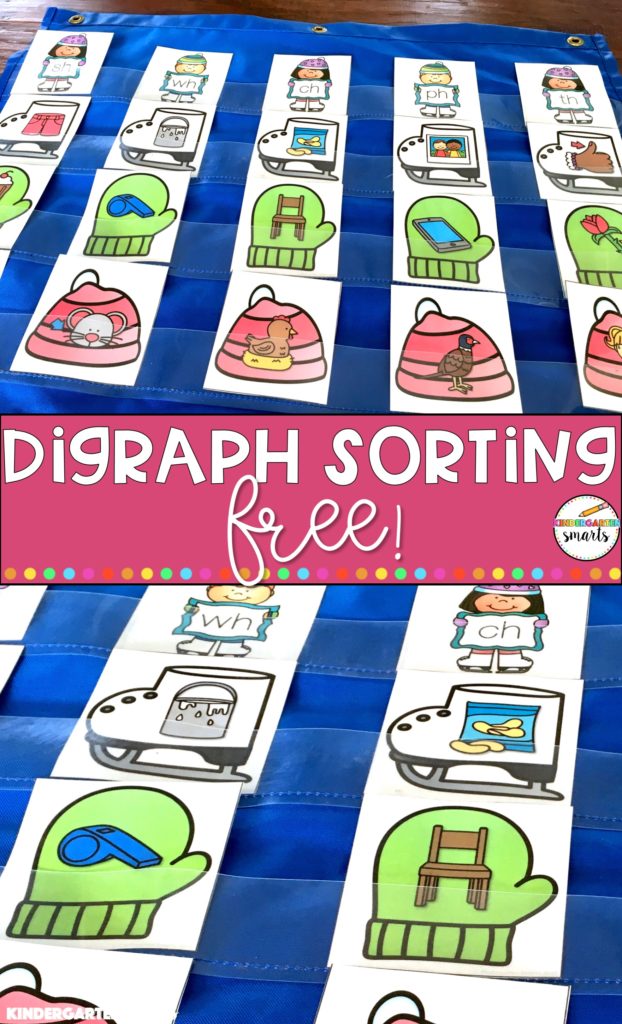 Happy teaching and enjoy your winter!!
Don't have time to read this now? Pin it for Later!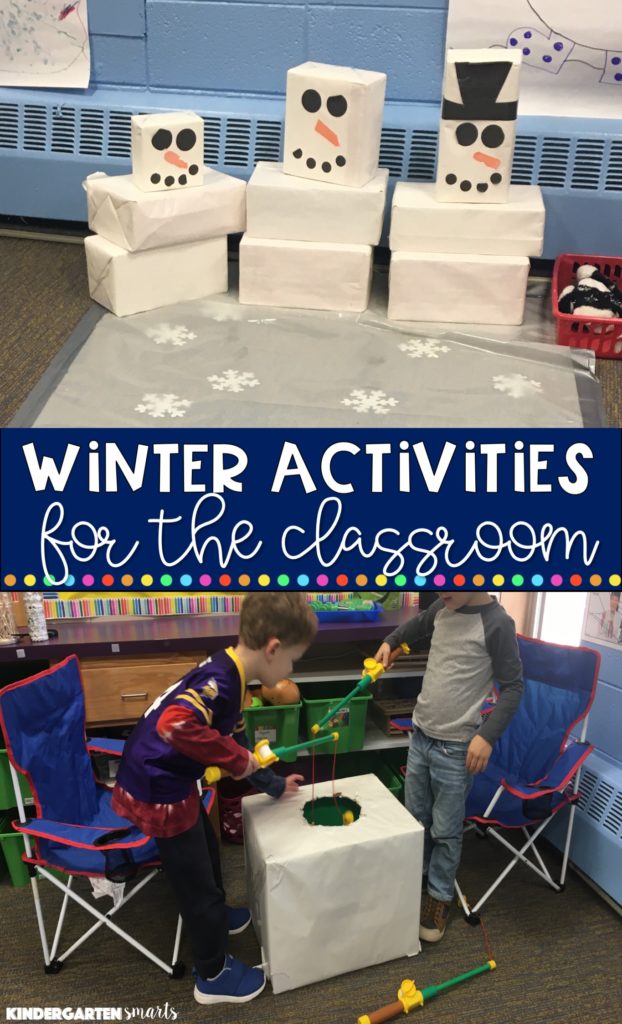 Join the newsletter
Sign up for exclusive freebies and teaching tips here!